Does your business need to communicate across dispersed geographical locations, across a large area with physical barriers or have seamless coverage within a high-rise building? No matter where you are you can communicate easily among geographically dispersed locations across the city, state or country.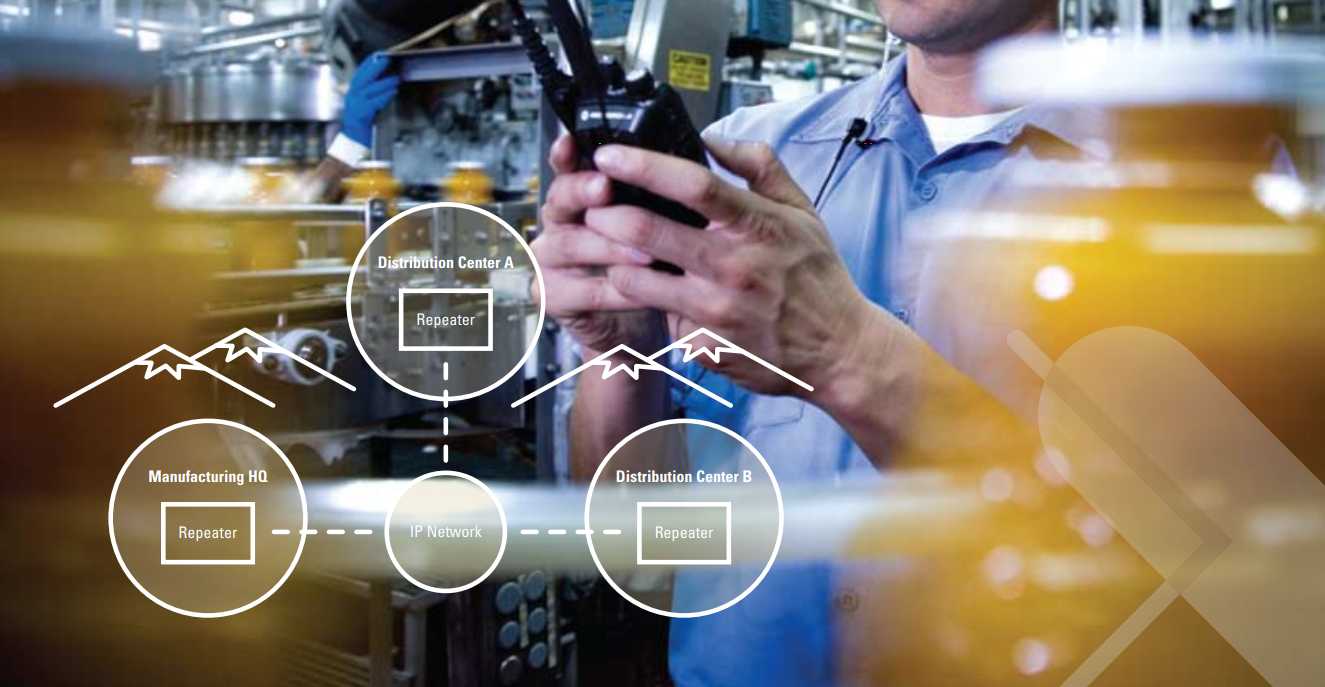 This communication is possible thanks to the IP Site Connect digital solution. The IP Site Connect uses the Internet to extend the coverage of your MOTOTRBO™ communication system regardless of your location.
Without manual intervention you can create wide area coverage and automatically roam from one coverage area to another. Or you can enhance coverage at a single site like a high-rise building that contains physical barriers. IP Site Connect enables you to extend the voice and data communication capability of your workforce beyond the levels two-way radio has achieved before. This means dramatically improved customer service and increased productivity.
When your organization has grown beyond a single location, you should consider MOTOTRBO IP Site Connect. This system uses multiple repeaters connected together with an IP network to create a distributed radio system. Whether you need unified communications across several different facilities, in-fill coverage in difficult geographic areas, or even a single-site multi-band network, IP Site Connect delivers affordable communication coverage.



Wide Area Coverage
Up to 15 sites can be connected using a standard IP network. Sites can be widely separated - in different towns or even different countries, allowing you to communicate across borders to keep your entire workforce connected.
Cost-Effective Deployment
There is no requirement to purchase additional infrastructure such as a system controller, as communications are coordinated by the site repeaters. And you only need access to a single radio channel at each site.
Full Voice and Data Support
Every site supports voice and data, and can be equipped with applications from our extensive developer community.
Easy to Maintain, Upgrade and Expand
With the included RDAC tool (Repeater Diagnostics And Control), you can access all sites remotely for maintenance, upgrade and configuration. Adding a new site is easy: just equip the new repeater on the IP network.
Graceful Migration
IP Site Connect is an easy upgrade from a conventional single-site radio system, and as your business grows, it's easy to further upgrade from IP Site Connect to a MOTOTRBO trunked solution such as Linked Capacity Plus or Connect Plus. Your investment is safe.
• Up to 15 Sites
• 1 Repeater per Site
• Up to 200 Radios 
(recommended)